Cryptographers blog about their research
The crypto group at Computer Science started a new website to promote their research and to allow researchers and business in the area to exchange knowledge and tools.
If you experience conferences are not always enough to share interesting cases and results from your research, you can start professional blogging inspired by the Crypto group at Computer Science.
- We have created a blog, wiki and a twitter feed to raise awareness of our research. Here we share information, so we can advertise for example for new products, applications, experiments and all that we are doing for researchers and the rest of the world, explains postdoc Claudio Orlandi about the new website "Multiparty Computation Lounge".
- In the last few years Secure Computation has moved from being a topic for academics only to a technology that can be used in the real world. Together with some of our colleagues from all over the world we realized that traditional academic publications media are not sufficient anymore, and we came up with the idea of a place to share tools, implementations and prototypes, explains Claudio Orlandi.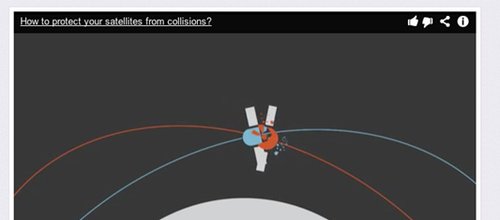 Keep up with the new trends in cryptography such as how to avoid satellite collision
Informal form
Printed articles are static and once printed cannot be changed anymore. On the web we have more flexibility and keep up with the news. Also, we can use a more informal writing style and we can include technical tools so that other can repeat our experiments, continues Claudio.
The blog was created as an experiment and after 2 months, several within the field have shared and commented. As the news spreads in different networks, it is anticipated that more people will deliver content and want to share their findings in a different way.
More and more researchers have their own blog but the Crypto group has chosen to do it together with other research groups around the world, and they hope more contributors will join.
- I like when I see that people re-share the content on Google Plus or other social media, Claudio Orlandi says.
- For me it's about getting the technology out in the world so that more people will find out what Multiparty Computation can do for them, he adds.
In this way, the blog also advertises to the world.
Visit the website here